Last Updated on September 8, 2018 by mybiohub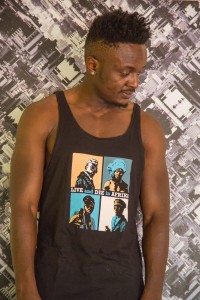 Savara Mudigi is a vocalist, producer,drummer,Dj and actor. His
versatility in the band has played an instrumental role during tour and
in the establishment on their imprint label: Sauti Sol Entertainment.

Since Sauti Sol's inception in 2006, Savara has remained active in
the group and part of the creation
of Sauti Sol two albums: Mwanzo
(2008) and Sol Filosofia (2011). He is currently the main producer
working on the band's upcoming album.
Inspired by Sauti Sol's first two albums: Mwanzo and Sol Filosofia,
Savara says, "I write music differently as compared to any other artists
out there. Much as my music will rule the world, heroism and power are
at the least of my priorities. I simply want people to feel what I feel
when am doing my music."
Savara has produced most of the songs from Sauti Sol's new album
#LiveandDieinAfrika working closely with Polycarp Otieno aka Fancy
Fingers. He occasionally produces for numerous artists like Elani and is
constantly networking with international producers and DJs.
Savara completed a Bachelor in commerce/finance from Africa Nazarene University of East Africa in 2012.
Professional Profile
Member of the Best African Group (Afrima 2015) Sauti Sol
2014 MTV EMA – Best African Act winner with Sauti Sol
2015 BET Awards nominee with Sauti Sol
Cast of VEVE – A local film produced in 2015 and a major hit a the theaters
Produced 70% of Sauti Sol's brand new album #LiveandDieinAfrika,
which received 400,000 downloads within the first 48 hours of release.
Winner Best Audio producer iof the year for Sura Yako (Afrima 2015)
Follow Savara on Twitter
Follow Savara on Instagram